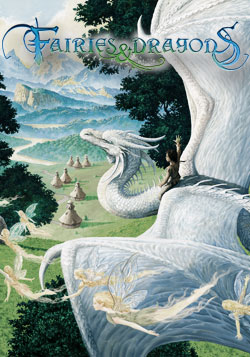 Auf der letzten Spiel in Essen (2007) berichtete Ciruelo davon, dass sein neues Buch, Fairies and Dragons verfilmt werden solle. Damals klang es zu schön um wahr zu sein. Und heute? Heute gibt es ein erstes Exposé in Text und bewegtem Bild zu bewundern. Ja ich weiß was das bedeutet: Gänsehaut für alle Ciruelo Fans!
Weiterführende Links:
---
"Fairies and Dragons" is a fantasy adventure set in a pre-Columbian Mapuche village in the middle of the Patagonia in the Andes. The story centers on Kamu, an eleven-year-old boy, who loves to draw and has a deep respect for nature. In a real rite of passage, we follow his journey to overcome his parents' death by entering a parallel world full of characters and fantastic creatures. By overcoming his parents' death, Kamu will also find the courage to save the world.
The Andekhan mountain range stretches into the infinite, said the Mapuks. Perhaps because no one they knew had traveled enough to see its end. There lives Kamu, a very special boy whose passion is to draw and whose dream is to draw a real live dragon on his notebook, although he has never seen one. His elder sister, Yssala has the ability to communicate with fairies. After the death of their parents, who were killed by contaminated water, they only have each other and Kayú, their grandfather and village wise man.
One day on the way home, Kamu and Yssala witness a confrontation between two gigantic snakes, a battle that is being fought in the volcano's throat. That is a sign which shows that the pachamama (Mother Earth) is awaken and suffering.
The children alert Kayú. While he warns the town, he sends the children to seek shelter in a cave in Harunka Gardens. The volcano's eruption causes the cave to collapse trapping the children inside. Yssala becomes sick from drinking the poisoned water. Kamu, in an attempt to keep her awake, starts to tell her a story based on the stone-carved drawings that he discovers on the walls of the cave, and enters a magical world. There he is attacked by a serpent and is rescued by Hobsyllwin, a white dragon sent by Elixana, an old "machi", (good witch). She knows there is a secret in the cave in the "Ancestors' Gallery", which contains the artwork of many ancestors, and that Kamu, as an artist, is the chosen child to decipher it to restore peace to the pachamama. A new world unveils before Kamu, who through the fantasy world will discover the hero that lives in him.
An ancient dream describes it: ". there was a boy pure of heart who wore the 'sign of the serpent'–and he also would draw dragons. He had a sister who communicated with fairies. One day FAIRIES AND DRAGONS invited the brother and sister to appease the volcano – and help the pachamama to find peace."