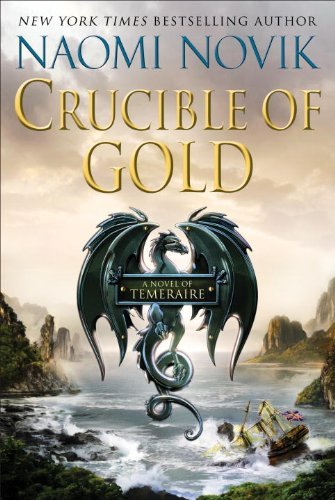 Die Weltreise von Will Laurence und Temeraire, seinem Kriegsdrachen geht munter weiter. In ihrem siebten Abenteuer, Crucible of Gold, verschlägt es die beiden nach Australien. Wie sie von dort aus gegen Napoleon vorgehen, dürfen wir ab dem 6. März 2012 erfahren.
For Laurence and Temeraire, put out to pasture in Australia, it seems their part in the war has come to an end just when they are needed most. But perhaps they are no longer alone in this opinion. Newly allied with the powerful African empire of the Tswana, the French have occupied Spain and brought revolution and bloodshed to Brazil, threatening Britain's last desperate hope to defeat Napoleon.

And now the government that sidelined them has decided they have the best chance at negotiating a peace with the angry Tswana, who have besieged the Portuguese royal family in Rio—and thus offer to reinstate Laurence to his former rank and seniority as a captain in the Aerial Corps. Temeraire is delighted by this sudden reversal of fortune, but Laurence is by no means sanguine, knowing from experience that personal honor and duty to one's country do not always run on parallel tracks.

Nonetheless, the pair embark for Brazil, only to meet with a string of unmitigated disasters that force them to make an unexpected landing in the hostile territory of the Incan empire, where they face new unanticipated dangers.

Now with the success of the mission balanced on a razor's edge, and failure looking more likely by the minute, the unexpected arrival of an old enemy will tip the scales toward ruin. Yet even in the midst of disaster, opportunity may lurk—for one bold enough to grasp it.
Eigentlich toll, dass Novik ihre Romane stets vorbereitet, indem sie sich zunächst vor Ort Eindrücke holt. So kann man auch die Welt kennenlernen. Wo würde ich denn gern mal hin? Neuseeland…ach ja, aus mir spricht der Neid. Weiterhin scheint es mittlerweile gang und gäbe zu sein auch für Bücher einen Trailer zu veröffentlichen. Novik hat dazu auch jemanden engagiert, so dass wir uns wohl kurz vor Veröffentlichung des Buches auf ein kleines (unnützes) Video freuen dürfen.
Weiterführende Links
[amazon-product text="Crucible of Gold bei Amazon" type="text"]0345522869[/amazon-product]
Crucible of Gold Lesperobe