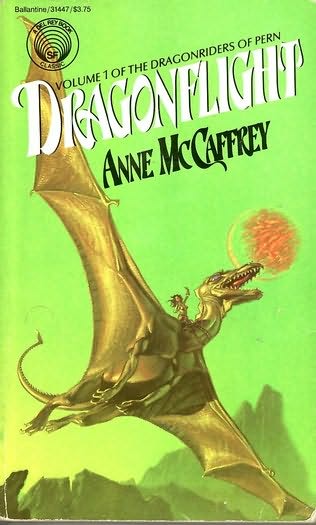 Na, da werden wieder Wellen der Begeisterung durch die Reihen der vielen McCaffrey und Pern Fans gehen. Todd McCaffrey eröffnete gerade in seinem Blog, dass die Bestrebungen einen Film über die äußerst erfolgreiche Buchserie um die Drachenreiter von Pern zu drehen, doch nicht nur Fangerüchte sind. Bei Drehbuchautor David Hayter (X-Men, Watchmen) wurde angefragt, ob er Dragonflight, das erste Buch der Serie von 1968 auf die große Leinwand bringen wolle.
Anne McCaffre sagt dazu:
The fans and I have been waiting, not so patiently, for a long time to see Pern and her characters on the big screen. I couldn't be more thrilled that a writer with David's tremendous creativity and track record of translating beloved source material into fantastic movies has decided to make this his next epic adventure.
Recht hat sie, die Fans werden das Projekt sehr argwöhnisch beäugen. Schließlich gab es in den letzten Jahren mehr als einen Fan-Wettbewerb um festzulegen welcher Schauspieler welchen Charakter bei einer möglichen Verfilmung verkörpern dürfte. Aber ernshaft, wenn nur die Hälfte der Wünsche der Pern-Fans umgesetzt werden sollte, dann würde das ein Stelldichein der Stars und ein verdammt teuer Film werden 🙂
Hier die vollständige Pressemeldung:
"WATCHMEN" AND "X-MEN"
WRITER TO ADAPT
"THE DRAGONRIDERS OF PERN"
"Transformers" producer Don Murphy also joins as
executive producer and Entertainment One to take
several international territories on "Dragonflight" the
first novel in Anne McCaffrey's hugely popular
"The Dragonriders of Pern" series to be penned by
David Hayter

TORONTO and LOS ANGELES (April 12, 2011) – Steven Hoban's Copperheart Entertainment has closed agreements with David Hayter and Benedict Carver's Dark Hero Studios, Don Murphy and Susan Montford's Angry Films and Entertainment One to adapt the classic science fiction/fantasy novel "Dragonflight" by Anne McCaffrey into a
feature film.

In "Dragonflight", the first in the epic "Dragonriders of Pern" series of novels, an elite group of warriors take to the skies on the backs of giant, fire-breathing, telepathic dragons to save the wondrously exotic planet of Pern from a terrifying airborne menace.

Hayter will pen the screenplay. Hoban and Carver will produce the film with Murphy, Montford and Hayter executive producing. Patrice Theroux negotiated for Entertainment One to handle distribution in Canada and is in discussion to acquire a number of other territories including the UK, Benelux and Australia. "Dragonflight" will be an international co-production, financed by several distribution partners around the world in much the way "The Lord of the Rings" was put together. Production is scheduled to begin early 2012. No director is currently attached.

The first book in the "Dragonriders of Pern" series appeared in 1968 and new editions continue to be published to this day. The series has sold millions of copies around the world, won numerous literary awards and spawned many spinoffs, including videogames, board games and graphic novels.

"These books have remained popular bestsellers for over forty years because of their breathtaking adventures, vivid cast of characters and spectacular creatures," said Hoban.

"The world of Pern is a unique and highly cinematic combination of science fiction and fantasy."
"This property has an incredible literary heritage and a rabid fan base," said Hayter. "I'm really looking forward to delving into the majestic world that Anne has created and transporting it to the screen."

"The fans and I have been waiting, not so patiently, for a long time to see Pern and her characters on the big screen," said Anne McCaffrey. "I couldn't be more thrilled that a writer with David's tremendous creativity and track record of translating beloved source material into fantastic movies has decided to make this his next epic adventure."

Hoban's Copperheart has produced a diverse body of work including the Vincenzo Natali directed science-fiction thriller, "Splice", which was released in Canada by Entertainment One and the US by Warner Bros; the 2005 Oscar®-winning computer animated short, "Ryan"; and the world's first Imax 3D animated film, "Cyberworld". Copperheart is
repped by Jon Levin and CAA.

Hayter and Carver formed Dark Hero in 2009 to produce feature films and television programming in the action, fantasy, sci-fi and horror genres. The company has a first look deal with Entertainment One. As a screenwriter, Hayter has adapted a number of celebrated graphic novels to film, including "X-Men", "X2: X-Men United" and "Watchmen". Carver's producing credits include "Doomsday" and the upcoming "Tekken". Dark Hero is repped by UTA and attorney Dave Feldman.

Don Murphy's first production was the 1994 Oliver Stone directed, Quentin Tarantino written "Natural Born Killers". Murphy has produced several high-profile movie adaptations of books, graphic novels and toys, including "Apt Pupil", "From Hell", "The League of Extraordinary Gentlemen" and the blockbuster "Transformers" franchise. Susan Montford's first production with Murphy was the 2007 "Shoot 'Em Up", which starred Clive Owen and Paul Giamatti. They are in postproduction on "Real Steel", which stars Hugh Jackman, and is scheduled for release by Walt Disney Pictures this fall.
Murphy and Montford worked with Hoban and Entertainment One on "Splice."

Entertainment One Ltd. (LSE:ETO) is a leading international entertainment company that specializes in the acquisition, production and distribution of film and television content. The company's comprehensive network extends around the globe including Canada, the U.S., the UK, Ireland, Benelux, France, Germany, Scandinavia, Australia, New Zealand and South Africa. Through established Entertainment and Distribution divisions, the company provides extensive expertise in film distribution, television and music production, family programming and merchandising and licensing. Its current rights library is exploited across all media formats and includes more than 20,000 film and television titles, 2,400 hours of television programming and 45,000 music tracks.

Anne McCaffrey is the reigning queen of science fiction fantasy literature. In a career spanning over 40 years, McCaffrey has won virtually every honor imaginable, including being the first woman to win the prestigious Hugo and Nebula Awards. Her 1978 Pern novel, The White Dragon, was the first science fiction book to make the New York Times Best Seller List. In 2005 McCaffrey received the Damon Knight Memorial Grand Master Award for Lifetime Achievement by the Science Fiction and Fantasy Writers of America. In 2006 McCaffrey was inducted into the Science Fiction Hall of Fame.