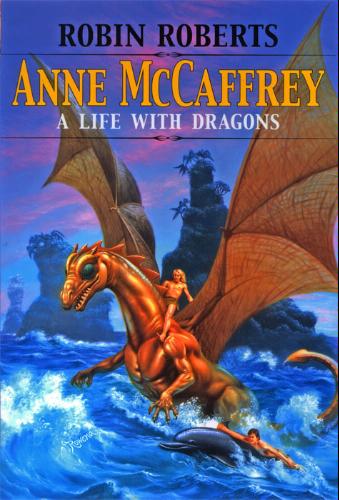 A life with dragons. Das ist wirklich ein passender Titel für eine Biographie über Anne McCaffrey. Allerdings ist es nicht die erste, denn diese lässt sich unter dem Titel "Dragonholder The life and dreams of Anne McCaffrey (so far)" finden. Nichts desto trotz scheint es eine nette Bio zu sein, denn Anne selbst schreibt darüber:
On the eve, more or less, of my trip to Eurocon at Copenhagen, let me assure you that the biography, A Life with Dragons by Robin Roberts, is excellent. She manages to know more about why I write than I do, and does it in such a smooth manner that I was bloody well glad she wrote it. She researched everyone still alive, and figured adroitly why and how I write as I do. It is seriously well done and I'm very pleased I was her subject. She's done me proud and those I wanted to get credit – namely Virginia Kidd, RIP – who skillfully managed to make me better than I started out to be.
Regards, Annie
Das Buch kann bei Amazon bestellt werden.
Anne McCaffrey: A Life with Dragons

By Robin A. Roberts

University Press of Mississippi

ISBN 1-57806-998-X, hardback, $28

Book News for Immediate Release

Life of Dragonriders of Pern series creator revealed in new biography

Anne McCaffrey: A Life with Dragons (University Press of Mississippi) by Robin Roberts is the life story of a writer who vividly depicts alien creatures and new worlds. As the author of the Dragonriders of Pern series and the first woman to win the Hugo and Nebula awards, McCaffrey (b. 1926) is one of the most significant writers of science fiction and fantasy.

Robert shows the ways that McCaffrey's life shapes her writing. Conversely, the biography gives a rare glimpse into ways that McCaffrey's writing influences her personal life. In her introduction Roberts explains, "Like all writers, Anne transmutes the features of her life into art. Charting her life course reveals the frame from which she built her art."

This biography reveals a fascinating and complex figure, one who creates and recreates her fictions by drawing on her experiences. At various stages, McCaffrey has been a beautiful young girl who refused to fit into traditional gender roles in high school, a restless young mother who wanted to write, an American expatriate who became an Irish citizen, an animal lover who dreamed of fantasy worlds with perfect relationships between humans and beasts, and a wife trapped in an unhappy marriage just as the women's movement took hold.

Meticulously researched, Roberts draws her narrative from interviews with McCaffrey, her children, friends, and colleagues as well as archival correspondence and contemporary reviews and criticism. Anne McCaffrey: A Life with Dragons is a nuanced portrait of a writer whose appeal extends well beyond readers of her chosen genre.

Robin Roberts is associate dean of the College of Arts and Sciences and professor of English and women's and gender studies at Louisiana State University. She is the author of Sexual Generations: "Star Trek: The Next Generation" and Gender; Anne McCaffrey: A Critical Companion; A New Species: Gender and Science in Science Fiction; and Ladies First: Women in Music Videos (University Press of Mississippi).