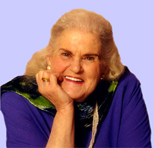 Ich kann es kaum glauben! Die Gerüchte existieren schon seit Jahren, wenn nicht sogar schon seit über einem Jahzehnt, dass Anne McCaffreys Lebenswerk (Die Drachenreiter von Pern) verfilmt werden soll. Bislang dementierte sie dies stets, da ihr das Drehbuch nie gefiel oder ihrer Welt nicht gerecht wurde. Jetzt jedoch scheint sich das geändert zu haben, denn auf der Homepage ihres Sohnes wurde vor wenigen Tagen diese Pressemeldung gepostet, die ich ungekürzt hier abdrucke:
Press release
19th May 2006
FOR IMMEDIATE RELEASE
ANNE MCCAFFREY'S BESTSELLING SCIENCE FICTION-FANTASY SERIES "THE DRAGONRIDERS OF PERN" OPTIONED BY OSCAR®-WINNING CANADIAN FILM PRODUCTION COMPANY COPPERHEART ENTERTAINMENT
Anne McCaffrey's Dragonriders of Pern novels have been optioned by Steve Hoban of Copperheart Entertainment.
"I decided that Pern had to be done right and I wouldn't let it go to someone unless I was certain that they were committed to excellence," says Anne McCaffrey. "Steve brings not only his proven talent but his very great enthusiasm to the endeavor. I'm thrilled to be working with an Academy Award® winning Producer. Pern is in excellent hands!"
"Bringing the Dragonriders of Pern saga to the big screen has been a dream of mine ever since I first read the books and, like millions of other people around the world, fell in love with them," says Copperheart's Steve Hoban. "'Lord of the Rings', 'Harry Potter' and the 'Chronicles of Narnia' have all been adapted with enormous success and the Pern series is in the same league. Anne is a master storyteller who has created a captivating mix of action, adventure, mystery, romance, and intrigue – not to mention intelligent, telepathic dragons linked to their human riders in a mystical bond – that will appeal to the movie-going public around the globe."
Anne McCaffrey is the award-winning author of the Dragonriders of Pern series. She is the recipient of the SFWA Grandmaster Nebula, the American Library Association's Lifetime Literary Achievement, and is one of the 2006 inductees into the Science Fiction Hall of Fame. She has been writing for over fifty years, her Dragonriders of Pern series has won the hearts of millions, becoming an established classic in the field. You can visit her on the web at: http://www.annemccaffrey.net
Copperheart Entertainment is a Toronto-based production company established by Steve Hoban to produce live-action, large format and animation films. Hoban is one of Canada's most successful independent producers having produced a diverse body of work including the 2005 Oscar® winning animated short, 'Ryan'; the Imax®3D film, 'Cyberworld'; and the popular 'Ginger Snaps' feature films. He is currently in post-production on the remake of the 70s horror classic 'Black Christmas'. You can visit Copperheart on the web at: http://www.copperheart.ca