Artikel-Schlagworte: "Robin Hobb"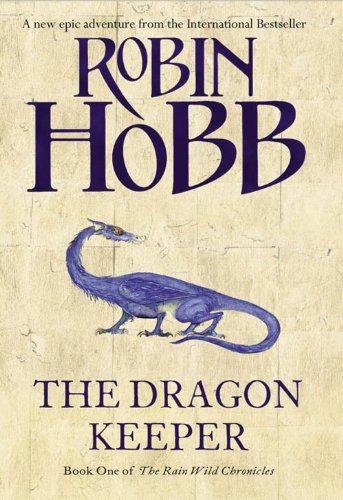 Bei einem kleinen Shoppingausflug in eine Buchhandlung in Den Haag fiel mir folgendes Buch in die Hände: Robin Hobb The Dragon Keeper, erster Teil der Rain Wild Chronicles.
Tintaglia the blue dragon has lost interest in the stunted dragons that emerged from the cocoons of Maulkin′s Serpent Tangle. Dragons are fiercely practical about survival of the fittest, and now that she has produced her own batch of healthy hatching serpents Tintaglia no longer provides for the weak creatures abandoned near Trehaug, the main city of the Rain Wilds.
The Rain Wild Council is as ruthless as Tintaglia: Deciding that the pack must be relocated they begin to recruit their least useful citizens to tend the beasts and escort them upriver to better hunting grounds.
Because of their proximity to the acid waters and vapours of the Rain Wild River, Rain Wilders are born with deformities that shorten their life expectancy and must wed young and reproduce early if their family lines are to survive.
Thymara is long past marriageable age. Having been born with too many abnormalities she should have been exposed as an infant, but her father chose to keep and raise her, against his wife′s wishes.
When Thymara′s mother hears that the council is seeking tenders she grasps the chance to be rid of her wild, ugly daughter. But Thymara shows just as much enthusiasm at the prospect of adventure and grabs the opportunity to travel with the dragons.
But the youngsters that will herd the dragons are as ignorant as the beasts themselves – both completely unaware that they are being sent into an exile rather than to a sanctuary.
Weiterführende Links:
http://www.robinhobb.com
Dragonkeeper by Harper Collins
Dragonkeeper bei Amazon