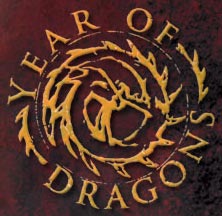 Was verbirgt sich hinter der der Domain http://www.yearofdragons.com?
Ein neuer Coup der Wizards of the Coast. nach dem gerade erst das Buch "Races of the dragon" erschien, legen die Wizards nach und präsentieren eine ganze Latte an Dracheninhalten!
Eine neue Miniaturenserie mit dem Titel "War of the dragon Queen"
Einen neuen Roman von Margret Weis
und vieles mehr…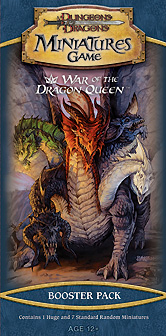 Die D&D Miniaturen gehen dieses Jahr bei den Wizards in eine neue Runde. Mit "War of the Demon Queen" schlägt das Herz jedes Drachenfans höher:
Long anticipated by fans, War of the Dragon Queen is the second D&D Miniatures set to feature Huge figures from the D&D realm. These figures tower over other miniatures in the set and are accurate representations of the larger side of the D&D creature lineup. The figures in the set were chosen from a variety of D&D roleplaying sources, including several volumes of the Monster Manual, Heroes of Battle, and the Eberron and Forgotten Realms campaign settings. The set also includes an elite selection of characters that are accompanied by a second, epic-level stat card, allowing players to assemble higher-value armies with which to do battle. War of the Dragon Queen releases in July, 2006 and has a suggested MSRP of $19.99 per booster.
Booster Pack components:
Eight (8) randomized, pre-painted, plastic miniatures, including one (1) huge figure
Stat cards for each miniature, plus additional epic-level stat cards
A War of the Dragon Queen set checklist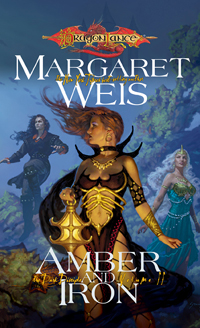 Auch Margret Weis steuert etwas hinzu und zwar den zweiten Teil Ihrer Buchreihe The Dark Disciple mit dem Titel "Amber and Iron"
The world of Krynn is ever changing, and even the gods can be taken by surprise. And if that's true of the gods, what chance can a mere mortal have? Caught up in forces none of them could hope to face alone, a small but determined band of adventurers come together in a desperate attempt to stop an invasion.
Mina, as enigmatic as ever, escapes imprisonment to set off on a quest that will test even her considerable will. All the while, evil spreads across the land, gaining ground with each new day.
With so much at stake, with the very soul of Krynn on the line, champions must be found even in the darkest places.
A thrilling new novel by international best-selling author Margaret Weis, co-creator of the world of Dragonlance.
Ein erstes Probekapitel des Buches kann man sich bereits im Internet kostenlos durchlesen
Außerdem gibt es tolle Bildschirmhintergründe und (weniger interessante) Bildschirmschoner