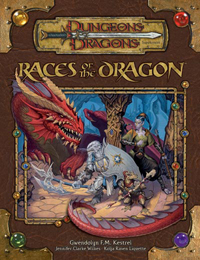 Nächsten Monat gibt es bei den Wizards of the Coast ein neues Quellenbuch zu kaufen, welches sich mit allen Abkömmlingen des edlen Drachengeschlechts befasst. Darunter befinden sich bspw. die Drachengeborenen und die Halbdrachen.
A new D&D sourcebook detailing races descended from dragons.

Races of the Dragon provides D&D players and Dungeon Masters with an in-depth look at races descended from or related to dragons. In addition to exploring the fan-favorite kobold race, Races of the Dragon introduces two new races, dragonborn and spellscales, and provides information on half-dragons. The dragonborn are a transitive race, an exciting new concept that allows players to transform from their initial race into a new one. This book also includes a wealth of cultural information and new prestige classes, feats, equipment, spells, and magic items.
Wer selbst einen Blick riskieren möchte, der kann im INternet mal nach der ISBN 0-7869-3913-3 suchen, oder nimmt einen der nachstehenden Links:
Weiterführende Links
Wizards.com
Amazon.de